---
Weekly Market Letter for September 21, 2018
Dow Bulls Take The Baton
DJIA and S&P 500 post record highs.
The major averages cast aside trade concerns this week after a muted response from China on a new round of tariffs from the U.S. The DJIA and S&P 500 rallied to new record highs in a broad based move...... [MORE]


---
Daily Market Commentary for September 25, 2018
Record Setting Day
The major averages tried to bounce back today but the market surrendered the early gains and closed the session mixed. Energy (XLE) was higher after oil prices rose for a second day after OPEC stated...... [MORE]

---
Feature Preview
Feature Preview - Advanced Charts
Have you ever wanted a Sneak Peek into the Market Edge Labs? Well here's your chance! Market Edge is happy to announce a Limited Feature Preview for Advanced Charts. The Feature Preview will only be available to select clients for a limited time. All feedback is welcome and encouraged.

Check out these new charts on the Stocks tab when you select a Second Opinion or Quick Chart Report or see the chart for Southwest Airlines by clicking HERE.

Let us know what you think and Thank You for choosing Market Edge.

---
Tuesday Tech Talk - 09/25/2018
September 25th 2018


Tuesday Tech Talk 09-25-2018 from Market Edge on Vimeo.
---
Exclusively for MarketEdge® Subscribers!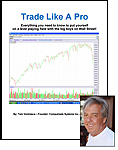 For a limited time, subscribers to Market Edge® can get a pre-release copy of the new book, Trade Like a Pro: Everything you need to know to put yourself on a level playing field with the big boys on Wall Street! This opportunity will help you leverage the power of Market Edge® to find The Right Stock at the Right Time™

Subscribe NOW for a 14 day Free Trial of Market Edge® to get Trade Like A Pro!

---
Video Tutorials


We have developed a series of video tutorials to help you navigate various modules of the Market Edge site. Click here to check them out.





Market Edge Favorites