Exclusively for MarketEdge® Subscribers!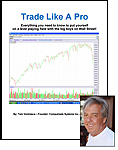 For a limited time, subscribers to Market Edge® can get a pre-release copy of the new book, Trade Like a Pro: Everything you need to know to put yourself on a level playing field with the big boys on Wall Street! This opportunity will help you leverage the power of Market Edge® to find The Right Stock at the Right Time™

Subscribe NOW for a 14 day Free Trial of Market Edge® to get Trade Like A Pro!