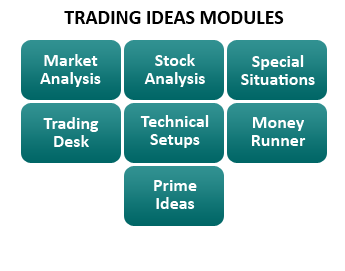 Trading Ideas consists of 7 modules, each designed to give you daily ideas based on either sound technical analysis or a combination of the Market Edge opinion with solid technical and situational forms of analysis. Each module addresses an investing or trading strategy from a unique perspective.
Market Analysis includes those stocks that are leading or lagging the market on a daily basis. It identifies stocks with abnormal price or volume activity since these are usually good candidates for above average performance. These selections include stocks making new 52-week highs or lows, biggest gainers or losers, most actives etc.
Stock Analysis contains the best selections based on the Second Opinion criteria as well as Upgraded and Downgraded opinions from the previous day. It also isolates stocks that are considered to be the Best Longs (Buys), and the Best Shorts( Sale) candidates.
Special Situations isolates stocks that have done something unusual during the previous day's session. You can uncover volume leaders, stocks that gapped up or down as well as those whose volume was greater than 200% of its average daily volume and are up or down 5% or more. Special Situations can be a valuable tool in uncovering potential winners.
Money Runner provides specific stock recommendations. Starting with a list of stocks which have been upgraded (potential Buys) or downgraded (potential Short-Sales) by the major Wall Street firms, Money Runner buys the stocks when the Market Edge Opinion is upgraded to a Long or sells it short when the Market Edge opinion is downgraded to an Avoid. Money Runner includes a suggested Target as well as a Buy or Sell Stop. Stocks in Money Runner should be bought or sold short on the day they appear in the Today's Buys list or the Today's Shorts list.
Trading Desk is designed for traders who like short-term trading strategies. On a daily basis, the Trading Desk generates a list of stocks that are either approaching an area of recent resistance (Buys) or support (Short Sale) candidates. The entry price marks the appropriate breakout point. The trade should only be done if the stock breaks above or below the entry price. When a stock breaks above an area of resistance, the stock is in short supply which should cause the stock to experience an upside move. When a stock breaks below an area of support, the stock is in over supply. This usually sees the stock experience a downside move. "Front running" the entry price is not a good idea because the stock has failed to penetrate this support/resistance area. Wait for the breakout.
Stocks included on the report whose closing price is above or below the Entry Price have already broken out. They may be played in one of two ways. If you have a longer-term prospective, understand that these stocks have a high probability of seeing their opinion being upgraded to Long or downgraded to Avoid over a relatively short period of time. Therefore it would still be a good entry point. The other way to play these stocks is to wait for the closing price to fall back to the 'Buy' Entry Price or trade above the 'Short Sale' Entry Price and initiate positions at that time.
Prime Ideas Ideas combines Market Edge's technical based research with S&P Capital IQ's outstanding, fundamental data. Prime Ideas are the best of the best. There are no selections for you to make other than the Investment Styles which include Growth, Momentum, Value, CANSLIM, Bottom Fishing or Short-Sale stocks. Everything else is done for you. Click here to learn about how the Prime Ideas are defined.
Technical Setups are similar to Prime Ideas but doesn't include any fundamental criteria. Stocks are screened for specific technical characteristics and placed in one of the following categories: Potential Reversals (Long) - Potential Reversals (Short), Oversold Buys - Overbought Shorts and Power Plays. Click here to learn about what is in each technical setup.
There are some general rules to follow when using Trading ideas:
When you review a list, look for stocks you know. It is always better to trade a stock that you are familiar with.
Always check the news and the stock's chart so you get familiar with its trading history.
Whatever you have used as an exit strategy before, stick with it for these trades.
Use your head. These are not a 'Black Box' trading systems. There is no substitute for your good judgment.