Story
S&P 500 Up On Earnings
October 18, 2019
MARKET LETTER

| |
S&P 500 Up On Earnings
NASDAQ extends gains for third week.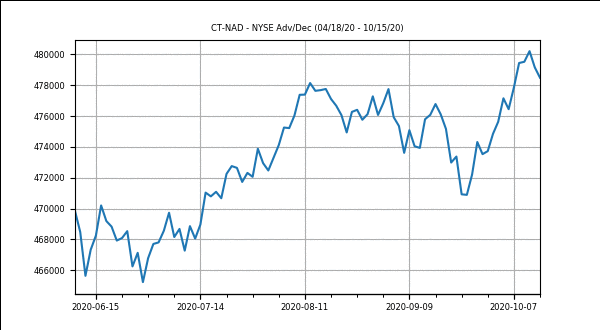 Most of the major averages moved tentatively higher this week as Q3 earnings rolled in led by Money Center banks JP Morgan Chase (JPM) and Bank of America (BAC) that beat lowered expectations. Economic data was mixed during the week with Retail Sales falling below estimates, but housing data better than consensus. Despite Friday's uneven trade, the major averages were able to consolidate the previous week's healthy gains and except for the Dow, nudge higher for a second straight week. For the period, the DJIA's tumble on Friday left the blue chip index with a loss of 46.40 points (-0.2%), closing at 26770.20. The S&P 500 picked up 15.93 points (+0.5%) and settled at 2986.20. The NASDAQ was higher for a third consecutive week adding 32.50 points (+0.4%) and finished at 8089.54, while the small cap Russell 2000 rose 23.58 points (+1.6%) and closed at 1535.48. The DJ Transportation Index outperformed for a second week gaining +2.1%.
Market Outlook: The technical condition of the market remained positive during the week. All of the major averages are now back above their respective 50 and 200-day moving average (MA) and the technical indicators are all in neutral to bullish ground. Momentum also appears to be gaining in strength, but is neutral for the DJIA. The small cap Russell 2000 and DJ Transportation Index, which market technicians would like to see lead the broader market, showed positive divergence and outperformed which could be a precursor to the market hitting new highs. In addition, all of the sectors except Energy (XLE) are back trading above their 50 and 200-day MA. Defensive sectors Utilities (XLU) and Consumer Staples (XLP) however, are showing signs of deteriorating and are starting to look toppy ahead of the next FOMC Meeting. Breadth is also improving but hasn't yet confirmed a push to new highs. The NYSE Advance/Decline hit several new all-time highs but listed preferred stocks and bond funds have skewed the numbers. Those issues have also tilted the expanding number of new 52-highs in the NYSE. The NASDAQ Advance/Decline line and number of new 52-week highs are still showing negative divergence but the numbers have improved over the last few weeks which, if it continues, could help break stocks out to new highs.
Market Posture:Based on the status of the Market Edge, market timing models, the 'Market Posture' is Bullish as of the week ending 4/18/2019 (DJIA – 26559.54).
Cyclical Trend Index (CTI): The underlying premise of the CTI is that the market, as measured by the Dow Jones Industrial Average (DJIA), tends to move in cycles that often resemble sine waves. There are five identifiable cycles, each with different time durations at work in the market at all times.
Presently the CTI is Positive at +8, unchanged from the previous week. The counts for Cycles A, B, C and D are bullish while the count for Cycle E is bearish.
Momentum Index (MI): The market's momentum is measured by comparing the strength or weakness of several broad market indexes to the DJIA. Readings of -4 and lower are regarded as bearish since it is an indication that a majority of the broader based market indexes are weaker than the DJIA on a percentage basis. Conversely, readings of +4 or higher are regarded as bullish.
The Momentum Index is Positive at +9, up six notches from the previous week. Breadth was positive at the NYSE as the Advance/Decline line added 1595 units while the number of new 52-week highs out did the new lows on all five sessions. Breadth was mixed at the NASDAQ as the A/D line gained 1235 units while the number of new lows beat the new highs on three days. Finally, the percentage of stocks above their 50-day moving average rose to 58.0% vs. 52.1% the previous week, while those above their 200-day moving average increased to 56.4% vs. 46.6%. Readings above 70.0% denote an overbought condition, while below 20% is bullish.
Sentiment Index (SI): Measuring the market's Bullish or Bearish sentiment is important when attempting to determine the market's future direction. Market Edge tracks nine technical indicators that measure excessive speculative or sentiment conditions prevalent in the market. The Sentiment Index is Neutral at +1, down a notch from the previous week.
Industry Group Rankings : What's Hot (54) – What's Not (37). Of the 91 Industry Groups that we track, 54 are rated as either Strong or Improving while 37 are regarded as Weak or Deteriorating. The previous week's totals were 28-63. The following are the strongest and weakest groups for the period ending 10/17/19. Strongest: Home Construction, Retailers-Drug Based, Footwear and Home Furnishings/Appliances. Weakest: Advertising, Medical/BioTechnology, Oilfield-Equipment and Semiconductor's & Related. ETF Center: The top performing ETF categories for the week ending 10/17/2019 were: Blend-Small Cap (+3.02%), Sector-Healthcare (+2.70%), Growth-Small Cap (+1.83%), Value-Small Cap (+1.75%) and Sector-Telecom (+1.75%). The weakest categories were: Shorts (-2.04%), Sector-Energy (-0.95%) and Bond-Government Long Term (-0.47%).
Calendar of Technical Events:
| | | | |
| --- | --- | --- | --- |
| Date | | Event | Connotation |
| 10/16/2019 | | Relative Strength turned bullish | Bullish |
| 10/16/2019 | | Up/Down slope turned up | Bullish |
| 10/15/2019 | | MACD ST turned bullish | Bullish |
| 10/11/2019 | | Price gap up | Bullish |
| 10/11/2019 | | 50 day SMA slope turned up | Bullish |
| 10/03/2019 | | MACD LT turned bearish | Bearish |
| 10/02/2019 | | 10 day SMA cross below 21 day SMA | Bearish |
| 10/02/2019 | | 21 day SMA slope turned down | Bearish |
| 09/20/2019 | | 21 day SMA cross above 50 day SMA | Bullish |
| 08/29/2019 | | Point & Figure Double Top breakout | Bullish |
| 08/29/2019 | | 200 day SMA slope turned up | Bullish |
**The above listed technical events occurred for the DIA on the date indicated. DIA is the ETF for the Dow Jones Industrial Average (DJIA).

Numbers To Watch:

DJIA: 25339 - Support - The 8/15/2019 low
DJIA: 27398 - Resistance - The 7/15/2019 high
DJIA: 26528 - 50-day simple moving average
DJIA: 26057 - 200-day simple moving average

S&P 500: 2822 - Support - the 8/05/2019 low
S&P 500: 3019 - Resistance - 7/24/2019 high
S&P 500: 2944 - 50-day simple moving average
S&P 500: 2866 - 200-day simple moving average

NASDAQ: 7662 - Support - the 8/05/2019 low
NASDAQ: 8321 - Resistance - the 7/24/2019 high
NASDAQ: 8000 - 50-day simple moving average
NASDAQ: 7795 - 200-day simple moving average

"Dr. Market Edge Says"
Dr. Market Edge has been involved in the stock market for over thirty years. He publishes informative articles every month that provide insight into the workings of the market and features of the Market Edge website. These articles are part of the Market Edge Education Institute located on the Market Edge 'Home Page'. There are currently thirty-one articles ranging from how to interpret various chart formations to the proper placement of stop loss orders. Check them out today.

Market Timing Models

 

Current Reading
Prior Week
Connotation
Cyclical Trend Index (CTI):
8
8
Positive
Momentum Index:
9
3
Positive
Sentiment Index:
1
2
Neutral
Strength Index - DJIA (DIA):
66.7
61.0
Positive
Strength Index - NASDAQ 100 (QQQ):
68.6
48.0
Positive
Strength Index - S&P 100 (OEX):
69.4
48.0
Positive
Dow Jones Industrial Average (DJIA):
26770.20
26816.60
-0.2%
S&P 500 Index:
,
2986.20
2970.27
0.5%
NASDAQ Composite Index:
8089.54
8057.04
0.4%

 

**Connotation is Positive or Negative Divergence from the DJIA
Momentum Index Components
Current Reading
Prior Week
Connotation
**Dow Jones Industrial Averages (DJIA):
26770.20
26816.60

 

**DJ Transportation Av
10508.74
10292.00
Positive
**S&P 500 Index
2986.20
2970.27
Positive
**NYSE Composite Index
13006.76
12926.92
Positive
**NYSE Advance-Decline Line
456384
456666
Positive
**10 Day MA Advance-Decline Line
1.19
1.04
Positive
**NDX 100 Index
7868.49
7843.88
Positive
**NASDAQ Composite Index
8089.54
8057.04
Negative
**DJ Utilities Index
866.01
866.66
Positive
**Russell 2000
1535.48
1511.90
Positive
Trin (5 Day Average)
1.03
1.05
Neutral
NYSE Weekly New Highs-New Lows

 

231-147
218-144
Positive
Zweig Breadth Indicator
0.49
0.76
Neutral
McClellan Oscillator
-50
-28
Neutral
McClellan Summation Index
2461
2266
Positive
Unchanged Issue Index
0.03
0.02
Negative
Sentiment Index Components
Current Reading
Prior Week
Connotation
Fear-Greed Index(5 Day Avg)
45.40
31.00
Neutral
Shares Sold Short NYSE - Monthly (000)
16899159
16898731

 

NYSE Short Interest Ratio----(NYSE Only)
5.8
4.9
Bullish
Shares Sold Short NASDAQ

 

- Monthly (000)
8342401
8289152

 

NASDAQ Short Interest Ratio
4.4
5.2
Bullish
AAII Bull-Bear Ratio
1.1
0.5
Neutral
Put/Call Ratio (5 Day Avg.- All Equity Options)
1.04
1.06
Neutral
Dividend Yield Spread
0.42
0.30
Bullish
NAAIM Exposure Index
57.1
57.3
Neutral
Bullish Investment Advisors
49.1
47.6
Neutral
Bearish Investment Advisors
17.0
17.2
Bearish
Bullish - Bearish Investment Advisors Ratio
2.9
2.8
Neutral
VIX (CBOE Volatility Index)
14.25
15.58
Neutral
<![if supportMisalignedColumns]> <![endif]>